Range Rover Evoque Recalled Twice To Cap Off a Dreadful Year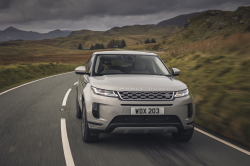 Any 2020 Range Rover Evoque SUVs with the "climate specification" front seats have been recalled because the Dinamica cloth can burn way too fast. Climate and burning, how eerily topical. And because that's not enough, the SUVs (with or without the special seats) have also been recalled because their second row seat belt assemblies are failing. Will someone tell 2020 about the mercy rule?
About the Recalls ∞
The recalls cover roughly 70 SUVs from the 2020 model year
The recalls won't begin until February 12th, 2021.